Annalivia Brings Their Folk & Roots String Trio Sound to the Fitzwilliam Inn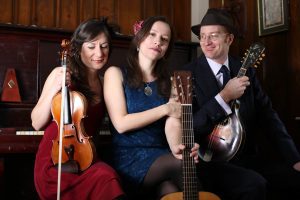 The Fitzwilliam Inn will host Annalivia on Friday, July 18 in what will feel like a hometown local show for the group, who tour regularly throughout the US and beyond. Annalivia's lead singer Liz Simmons grew up in Greenfield, NH and resided in Peterborough until just a few years ago with her husband, Annalivia's mandolinist Flynn Cohen. Meanwhile, they've just taken on a new fiddler, Brattleboro resident Lissa Schneckenburger, who is also a fine singer and adds much to the band's sound. The show at the Fitz will feature a mix of fine harmonious vocal moments and virtuosic instrumentals underscored by Annalivia's signature groove and drive– come see for yourself at 8:30 PM on July 18– the cover charge is just $10.  The Inn is located at 62 NH Rt. 119W, Fitzwilliam, NH. For more info go to: http://www.fitzwilliaminn.com/  or call 603- 585-9000.
Annalivia, dubbed "equally as slick as Alison Krauss and Union Station" by Northern Sky Radio (UK), draws from tradition and today to create their own brand of new acoustic folk music. The members of Annalivia – Liz Simmons, Flynn Cohen, and Lissa Schneckenburger – are masterful players and have long histories with multiple styles of music, ranging from bluegrass to Irish, Scottish, New England and Old Time Appalachian music. This background, combined with each member's stellar compositional skills and cutting edge arranging chops, makes for music which sounds rooted yet contemporary. Folk and string-band enthusiasts alike will be drawn in by the expert vocals and songwriting, excellent musicianship, and innovative approach. The members of Annalivia are seasoned musicians and have individually toured and performed with the likes of Ruth Moody, Cathie Ryan, John Whelan, Aoife Clancy, Adrienne Young, Childsplay and Solas, among others.
Annalivia's latest release The Same Way Down captures the band's innate connection with American roots music. The album features traditional songs and fiddle tunes alongside stunning original pieces, presented with the band's unique style and inspired arranging sensibilities. This album debuted at #7 on the international folk DJ charts, with False Sir John reaching the #1 played song on folk radio worldwide, and the band #1 played artist in the Massachusetts RMR. For more info go to www.annaliviamusic.com